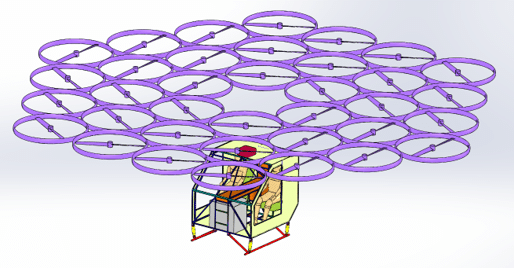 Mini-Bee is an eVTOL project
Made for two people, MiniBee is a piloted vertical takeoff multicopter.
Mini-Bee is an hybrid multicopter
Multiple rotors allow vertical take off and landing. It is hybrid with a standard general aviation engine that produce electricity during flight.
Basic flight path
Cruise speed : 170km/h
Range :600 km
MTOW : 700kg
Max power 100 kW
2 people on board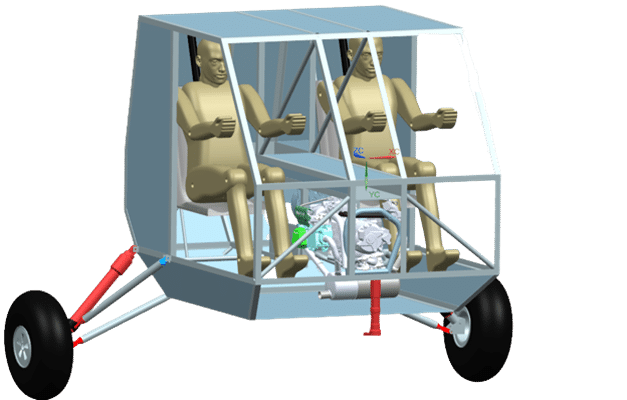 Mini-Bee can be used as an air ambulance. It has been designed to be able to answer civil forces usage. It is dedicated to light air ambulance mission. It is like a big drone that can carry two people on board. A pilot is managing the flight.
Welcome to Mini-Bee, the vertical takeoff and landing (VTOL) aircraft project that aims to revolutionize the aviation industry. Our team of experts has been working tirelessly to develop a unique, safe, and environmentally friendly aircraft that can take off and land vertically.
Mini-Bee is designed for urban air mobility and can be used for a variety of purposes, including personal transportation, cargo delivery, emergency response, and more. Its compact size and ability to take off and land vertically make it ideal for use in densely populated areas, where traditional aircraft cannot operate.
We have developed Mini-Bee using the latest technology and materials, ensuring its safety and reliability. Our team has conducted extensive testing and simulation to ensure that Mini-Bee meets the highest standards of safety and performance.
At Mini-Bee, we are committed to sustainability and environmental responsibility. Our aircraft is powered by hybrid electric propulsion, reducing its carbon footprint and noise pollution. It is also designed for easy maintenance and low operating costs, making it an economical choice for operators.
We believe that Mini-Bee will transform the way we think about air travel, and we are excited to bring this innovative aircraft to the market. Thank you for your interest in Mini-Bee, and we look forward to sharing more information with you soon.
Mini-Bee is an highly collaborative project
This project is achieved under dedicated lesser open source license.
It allows multiple actors (academic, industrial, individuals) to collaborate in an open-innovation workflow. Project works are mainly shared on a public wiki.
Tasks are achieved with coordinator management
Private Tasks (without public disclosure) or product covered by other licenses or other intellectual property
rights can be included within the project.
Only interface works will be covered by the open source paragraph of the Lesser Open Source License
Any Participant may use works done on the Project for technical or commercial use.
By default, standard royalties percent are defined